We all love spending time on our patios, don't we? Whether it's for quiet reflection with a morning cup of coffee or joyous laughter-filled barbecues with friends and family, a patio is more than just a part of our home – it's an extension of our living space. And when this space is a concrete patio, it adds an element of durability and charm to our outdoor area. However, like all good things, it also requires care and attention. Regular cleaning of your concrete patio is not just a recommendation, but a necessity. Here's why.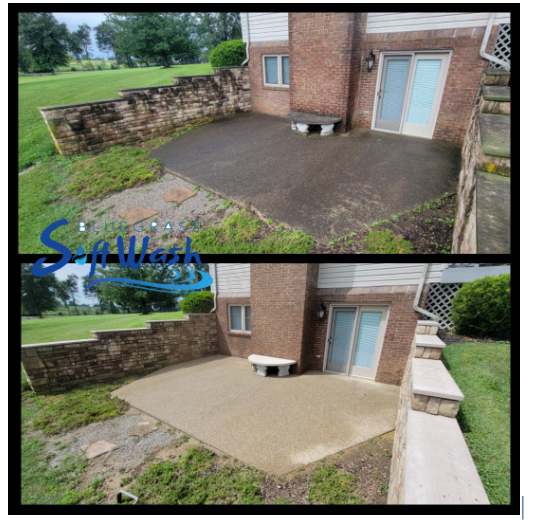 Preserving the Beauty of Your Patio
Your concrete patio, when clean and well-maintained, can be a thing of beauty. The smooth surface, the even texture, the way it complements your garden or backyard - it's truly a sight to behold. But neglect its upkeep, and you'll soon see a buildup of dirt, stains, moss, algae, and even mold. These not only detract from your patio's beauty but can also cause it to become slippery and unsafe. Regular cleaning helps maintain the aesthetic appeal of your patio, ensuring it remains a pleasant place for you to spend your leisure time.
Increasing the Longevity of Your Patio
Concrete is a durable material, but that doesn't make it invincible. Over time, the harsh elements of nature, combined with the wear and tear of regular use, can cause it to deteriorate. Accumulated dirt and moisture can seep into the concrete, causing it to crack or chip. Regular cleaning can help prevent this. By removing the grime and sealing the surface, you can protect your concrete patio from damage and extend its life, saving you costly repairs or replacements in the future.
Enhancing Your Home's Value
Did you know that a well-maintained patio can boost your home's value? A clean, attractive concrete patio can be a significant selling point if you ever decide to put your home on the market. It suggests to potential buyers that the property is well cared for, which can increase its appeal and potentially its selling price.
Creating a Healthier Environment
Mold, mildew, and algae are not just unsightly; they can also be harmful to our health. Regular cleaning of your concrete patio can help prevent these organisms from growing and spreading, creating a healthier outdoor environment for you and your family.
Enjoying a Sense of Satisfaction
Last but not least, there's something incredibly satisfying about seeing your concrete patio clean and pristine. It's a visual reminder of your efforts to maintain your home and a signal that your outdoor living space is ready for you to enjoy. Plus, regular cleaning can become a therapeutic routine – a moment of peace amidst the hustle and bustle of daily life.
Isn't it time to give your concrete patio the care it deserves? You've seen the importance of regular cleaning and the numerous benefits it brings. But we understand, life gets busy, and you might not have the time or the right equipment to do it yourself. That's where we come in. At Bluegrass Soft Wash, we specialize in gentle yet effective pressure washing that will have your patio looking as good as new in no time.
Don't let dirt and grime take away from the beauty of your outdoor space. Let's work together to maintain your patio's charm, increase its longevity, and create a healthy and attractive environment for your family to enjoy.
Click here to schedule your pressure washing service with Bluegrass Soft Wash today. Because a clean patio isn't just a clean patio—it's a renewed space for memories, laughter, and relaxation. We look forward to serving you!
Five Frequently Asked Questions About Patio Cleaning
Why is regular cleaning of my concrete patio necessary?
Regular cleaning of your concrete patio is essential to maintain its appearance and structural integrity. It helps to remove dirt, stains, moss, algae, and mold that can lead to surface degradation and safety hazards. A clean patio also enhances your home's curb appeal and overall value.
How often should I clean my concrete patio?
The frequency of cleaning depends on your patio's exposure to dirt, weather conditions, and usage. However, a good rule of thumb is to give it a thorough cleaning at least twice a year: once in the spring to prepare for the outdoor season, and once in the fall to remove any summer residue and prep for winter.
What are the potential health risks associated with a poorly maintained patio?
A poorly maintained patio can become a breeding ground for mold, mildew, and algae. These can be harmful if inhaled, especially for people with allergies or respiratory conditions. Regular cleaning helps to keep these health risks at bay.
Can regular cleaning increase the longevity of my concrete patio?
Yes, indeed! Regular cleaning prevents the buildup of grime and moisture that can seep into the concrete, causing it to crack or chip. By removing these elements and sealing the surface, you can significantly extend the life of your patio and avoid costly repairs or replacements.
I'm busy and don't have the proper equipment. Is there a professional service I can use for patio cleaning?
Absolutely! At Bluegrass Soft Wash, we offer expert pressure washing services to help keep your patio in top-notch condition. Our gentle yet effective methods will ensure your patio is clean, safe, and ready for you to enjoy. Click here to schedule a service today!
Remember, a clean patio is more than just an aesthetic pleasure—it's a commitment to your home's upkeep and a step towards a healthier living environment. Don't hesitate to reach out if you need professional assistance!